The real spindrift spiked story.
We took everything we learned about making sparkling water and set out to create an equally delicious Spiked version.
Let's rewind. Our story starts in 2010, in our founder Bill's kitchen. As an homage to his love of real food and an attempt to kick his soda habit, Bill started creating his own drinks – adding fruit to sparkling water. Voila! Spindrift – America's first sparkling water made with real squeezed fruit and its company namesake – was born. Now fast-forward through more than a decade of trial and error and 14 real fruit varieties, we were ready to take on a new challenge.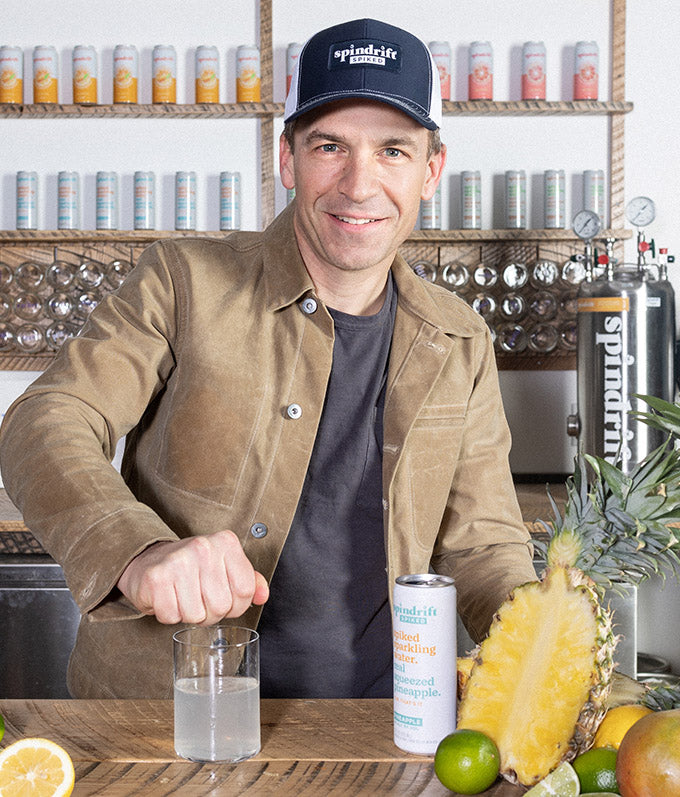 Think of Spiked as the sequel to the Spindrift story. After a few years, people started asking if we'd make a spiked version of our product. We loved the idea, but before we dove in, we wanted to get it right. We're perfectionists. So, after two years of (responsible) taste-testing, we finally created a spiked sparkling water we deemed delicious enough to share. With sparkling water, real squeezed fruit, and 4% alcohol from ultra-filtered fermented cane sugar, Spiked is the Spindrift you already love, plus a bit of ABV.

If there's one thing you should know, it's that our team is obsessively involved with the entire process in the creation of Spiked. From visiting the family farms where we source the best-tasting fruit, to being on-site for every single production run, to tasting each and every batch. We treat Spiked the same way we treat Spindrift - with lots of care and attention. We're love it and can't wait for you to try it.

Spiked is different from other hard seltzers. Instead of artificial flavors, sweeteners, or concentrates, we make Spiked with real ingredients and we put it all on the label. Simple and delicious, you can feel great about enjoying Spiked poured over ice or chilled and right from the can. Just remember to tip it before you sip it – to mix up the real fruit!

Since its debut in spring 2021, Spiked is now available in over 20 states in the U.S., with others on their way! We're working hard to bring Spiked to more shelves in more cities as fast as we can. If Spiked is available in your state but you haven't found it yet – ask at your favorite shop to order us and tell your friends! We can't wait to cheers with you soon.

Stay up-to-date on all things Spiked by following us @spindriftspiked and tell us where you want to see Spiked by contacting us and saying hey at hello@spindrift.com.